2017 Volkswagen Golf 1.5 TSI EVO
|
UK pricing is yet to be announced, but this facelifted Volkswagen Golf retains its trademark refined usability in new 1.5-litre TSI petrol form
What is it?
This is the facelifted seventh-generation Volkswagen Golf – a car destined to maintain the German car maker's long-time grip on the European sales crown in 2017. First unveiled last October, the new hatchback, which continues to be offered in both three- and five-door formats and can also be had as an MPV in the high roof Plus as well as an Estate, is planned to reach the UK in March, with the five-door 1.5 TSI tested here set to undercut the previous 1.4 TSI it replaces in the updated line-up on price, according to Volkswagen officials.
You have to look hard to spot the facelifted Golf. While there are some significant changes in the driveline department, its styling goes virtually unchanged. Those accustomed to the old model launched back in 2013 may notice a redesigned front bumper providing a subtle new look to the air ducts, halogen headlamps with altered LED daytime running lamps graphics and full LED tail lamps with altered lens graphics at the rear. However, the alterations are extremely restrained and likely to be undetectable to all but the most ardent of Golf fans.
Inside, there is the same familiar interior as before, with its orderly dashboard, intuitive switchgear layout, superb driving position and high-quality materials. However, Volkswagen now offers a wider range of digital display options aimed at broadening the Golf's appeal. Included is the Active Info Display. Already seen on the Passat, it uses a 12.3in display with a resolution of 1440×540 pixels to provide a clear and concise alternative to the standard analogue instruments with a choice of five differing designs that can be accessed through a multi-function steering wheel that is included when it is ordered.
For those with deep pockets, there's also a new top-of-the-line infotainment system called the Discover Pro. An alternative to lesser 6.5in Composition Colour and 8.0in Composition Media displays, it offers full touch control together with gesture control in various menus and can be combined with various on-line services, including Android Auto, Apple CarPlay and Mirror Link to provide a full suite of applications and services, including those from Volkswagen's own Car-Net scheme.
However, the big news with the new Golf concerns the changes that have gone on underneath the bonnet. In place of the turbocharged 1.4-litre four-cylinder petrol engine, that has provided the basis for the majority of sales of the seventh-generation model up until now, is a larger turbocharged 1.5-litre four-cylinder powerplant that goes under the internal codename EA211 EVO.
Bucking the downsizing trend with an added 103cm3 of capacity, the new Euro 6 compliant engine is a development of its successor rather than being new-from-the-ground-up. It is planned to eventually be offered in a wide range of Volkswagen models, including the new sixth-generation Polo due out later this year. In an initial state of tune, the contemporary direct injection unit kicks out 150bhp at 5000rpm and 184lb ft of torque between 1500 and 3500rpm to match the output of the engine it replaces in the 1.5 TSI Blue Motion Technology driven here. A more economical variant developing 128bhp and the same 184lb ft is also planned to see service in the future.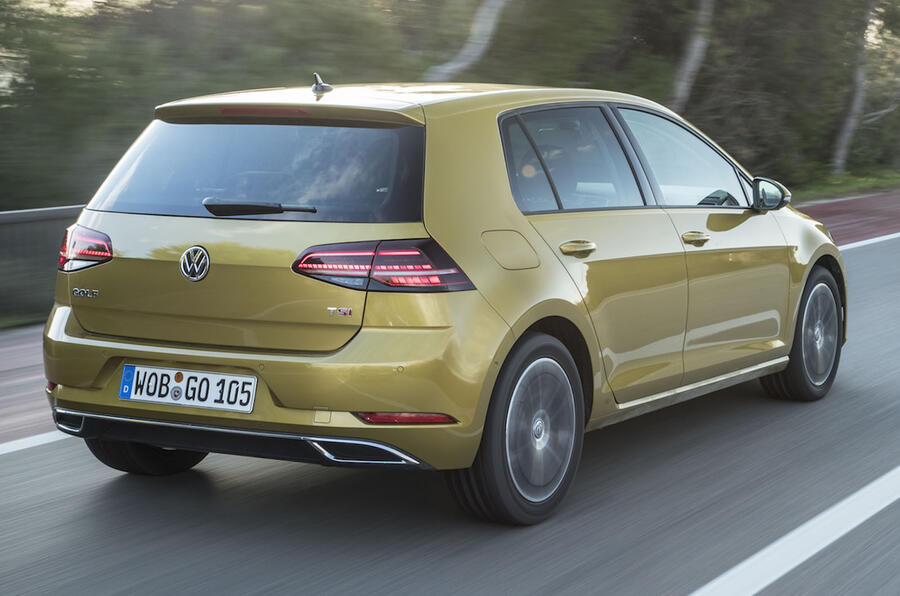 What's it like?
Has Volkswagen done enough to distinguish the new Golf from its predecessor? That's the question we kept asking ourselves during our time with the 1.5 TSI in Spain this week.
Initial impressions are that the new optional Active Info Display and Discover Pro infotainment system certainly add to its appeal, although the lack of a rotary dial on the latter is somewhat counterintuitive, forcing you to adjust the volume and scale of the maps used by the navigation either through a button on the steering wheel or on the face of the display itself, in a much more time-intensive process than before.
The styling of the dashboard continues to appear a little demure next to some more contemporary hatchback rivals, but there is a premium feel to the interior of the Golf that remains unchallenged in its class. Like its predecessor, the new 2017 model is superbly easy and uncomplicated to drive, whether tooling around town or punching along the motorway. It is this undemanding and straightforward nature that endeared it to almost one million buyers worldwide in 2016. So to answer our question, there was really no need for any major changes in the first place.
The new 1.5-litre engine is extremely flexible with a very linear delivery and real underlying determination from around 1500rpm onwards, providing the facelifted Golf with relatively strong and appealing on-throttle properties.
It also provides sufficient resolve and verve to execute B-road overtaking manoeuvres with a good deal of confidence and conviction when conditions permit. It needs at least 3000rpm before delivering its best, but with a smooth delivery and a noticeable but never overbearing timbre from the engine itself, it's no hardship to run the four-cylinder around the dial in the search for greater performance.
The ratios of the Golf 1.5 TSI's standard six-speed manual gearbox are perfectly suited to the characteristics of its engine, and its action is crisp and defined with weighty springing and a positive feel to the way it engages in each gate. Buyers can choose an optional seven-speed dual shift DSG unit, which brings automatic shift properties, although not significant improvement in accelerative ability or economy.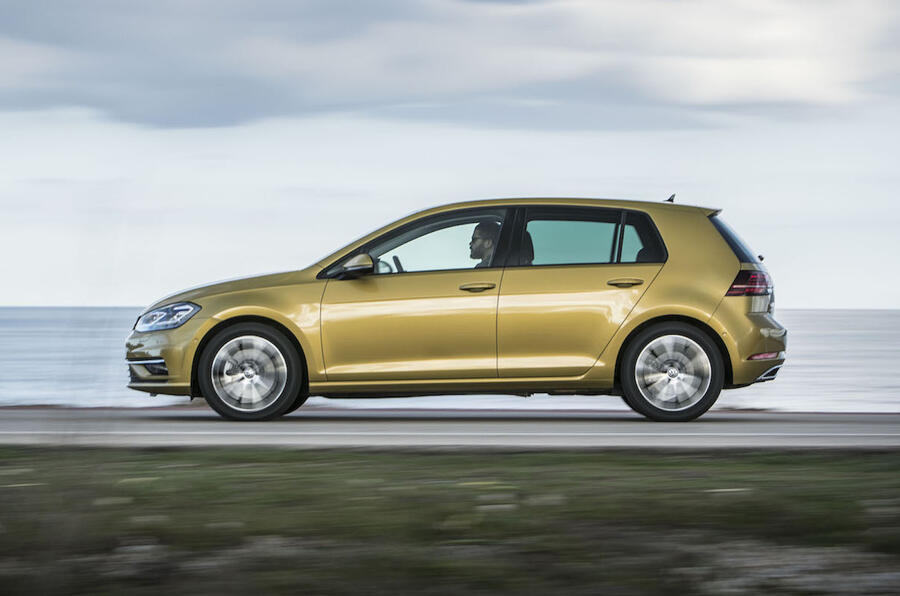 With the DSG, buyers get a new Traffic Jam Assist function. It uses a camera mounted within the windscreen and the lane keeping properties bundled in the earlier Lane Assist function to allow you to drive hands free semi-autonomously up to 37mph while providing automatic braking to allow you to stop and start off again.
Volkswagen claims 0-62mph in 8.3sec, which is actually 0.1sec slower than with the old 1.4 TSI. However, its engineers say in-gear acceleration has been improved thanks to the longer stroke and what they describe as more flexible nature of the new engine. Top speed, like that of its predecessor, is put at 134mph.
As with the older 1.4-litre unit it replaces, Volkswagen's new 1.5-litre engine receives Active Cylinder Management. On part throttle loads between 1000 and 4000rpm, and at speeds up to 80mph it shuts down the middle two cylinders by switching off the operation of fuel injectors and employing actuators to lift the camshaft lobes and close the valves, thus cutting combustion to save fuel.
The switch from four-cylinder to two-cylinder running is so seamless as to be imperceptible. The only indication of the change in operation is an indicator in the middle of the instrument display. With claimed combined consumption of 55.4mpg, the new model beats its predecessor by a scant 1.1mpg, endowing it with average CO2 emissions of 116g/km.
The new 2017 model year Golf continues to deliver sound and reassuring handling. It is not the most dynamic car in its class, but its direct steering, taut damping and excellent body control see it deliver tidy and dependable qualities over more challenging roads. The ride is firm by class standards but never harsh. However, there is some annoying tyre noise on less than smooth surfaces.
Tick the right option boxes and you get a so-called Driver Profile selector that allows you to alter throttle response and weighting of the steering in three modes: Comfort, Normal and Sport. Choose the optional Dynamic Chassis Control, and you also receive adaptable dampers that serve to change the stiffness of the suspension in three stages.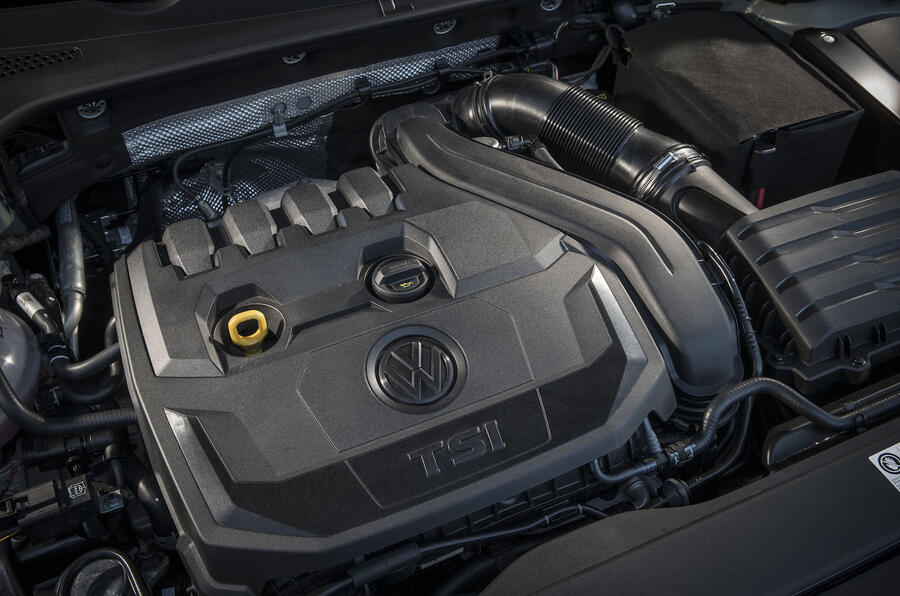 Should I buy one?
If you're on the hunt for a hatchback that offers excellent everyday usability and promises solid retained value, absolutely. Going on the pricing of its predecessor, it may end up costing more than the direct competition when pricing is finally announced, but the Golf 1.5 TSI reaches beyond each and every one of rivals as an ownership proposition.
Behind its restrained exterior styling is a car with virtues that run deep. Nowhere is this more apparent than from behind the steering wheel, where quality materials, well-designed controls and the new infotainment system of the facelifted model provides the Golf with the feel and ambience of a much more expensive car from a class well above.
Continuing where its successor left off, the Volkswagen best seller remains a quality product with outstanding refinement, great practicality and, with a new 1.5-litre four-cylinder engine, every bit as good to drive as its strong selling predecessor. Yes, the options are likely to remain expensive by class standards, not least of all the Golf's impressive new Active Info Display instruments and 9.2in infotainment display, but with three different lines and some sensible specifying you can manage to configure a car that will cater to your needs without breaking the bank.
Volkswagen Golf 1.5 TSI EVO